Chris McKenna

| Times Herald-Record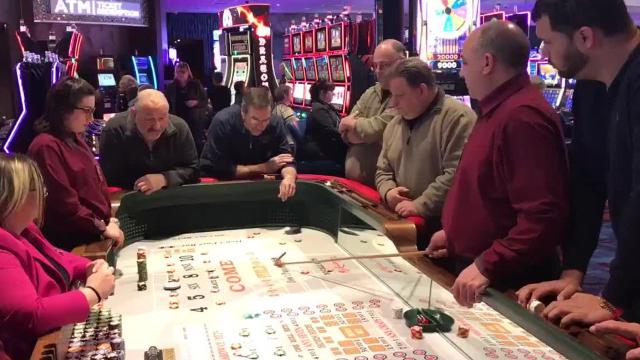 A planned gambling parlor in Orange County with electronic machines but no table games could rake in more than $200 million in revenue by 2025. And, it could match the income of the much larger casino at Resorts World Catskills in Sullivan County. That's according to a state-commissioned report released Tuesday.
Genting Americas, which runs Resorts World Catskills, has had state approval since 2019 to open a facility in Orange County to operate 1,100 video lottery terminals previously licensed at Monticello Raceway. The company has not revealed where and when it expects to open that facility.
A Resorts World spokesman said Wednesday that the company was considering several potential Orange County sites but wouldn't comment further on the locations or target opening date.
The new report by the consulting firm Spectrum Gaming Group analyzes New York's gambling future in the midst of a pandemic that has slashed casino revenue and as state officials are weighing whether to issue up to three casino licenses in and around New York City.
MORE: State authorizes Orange County VLT parlor
MORE: Gambling parlor at Nepera site would mean cleanup, tax revenue
MORE: Nepera site owners want taxes eliminated
A big factor in the scenarios Spectrum studied was the opening of a VLT parlor in Orange County. Its report projects such a facility could generate as much as $212 million in gross revenue by 2025, slightly more than what Resorts World Catskills could earn that same year after losing some customers to the Orange County facility.
The Orange County site, if located near the Thruway interchange in Woodbury as originally expected, would likely siphon off day-trip gamblers who would otherwise drive west on Route 17 to Resorts World Catskills in the Town of Thompson. It also would shave the income potential of any New York City casinos, the authors concluded.
"However, it may also capture some gross gaming revenue that otherwise would go to gaming facilities in other states," the authors said of the Orange County facility. "Genting is already a well-established gaming company in the New York market, such that it would be capable of quickly and efficiently utilizing and expanding its player database."
Forward thinking
The authors based their calculations on the Orange County VLT parlor opening around the middle of 2023 at the site of the former Nepera chemical plant in Harriman or nearby. They said Genting executives gave them that expected timeframe in April 2020, which was nine months ago and early in a pandemic that may have altered plans.
The report anticipates the Orange County facility would have 1,200 VLTs. By comparison, Resorts World Catskills has 2,155 electronic gaming devices and 133 gambling tables, according to the report.
The projected revenue ranges for both facilities in four years are based largely on whether the state grants zero, one or three casino licenses in the New York City area, and whether two licenses go to existing gambling sites in Yonkers and Queens that now have only electronic devices.
Yet another factor that could shrink those income projections: the possibility of a new casino at the Meadowlands in East Rutherford, N.J. Having that competitor in Bergen County could slash revenue by 20 percent at the Orange County VLT parlor and by 8 percent at Resorts World Catskills, the report concluded.
State lawmakers authorized the Orange County VLT parlor through a late addition to the state budget in 2019. The provision enabled Genting to relocate the VLTs that had drawn gamblers to Monticello Raceway for 15 years, and which had closed in 2019 after the opening of Resorts World Catskills six miles away made them redundant.
The authorization came with a number of stipulations to support Monticello Raceway and provide state aid for both Sullivan and Orange counties and the former and future host communities in both counties. It also mandated that Resorts World Catskills – which had 1,756 full-time employees in 2018 – retain at least 1,473 full-time jobs.
State Sen. James Skoufis, D-Cornwall, negotiated before the bill's passage to try to steer the new VLT facility to the former Nepera property in Harriman, which has been vacant for years since the chemical plant complex was torn down. He hoped to spur an environmental cleanup and revive the property-tax revenue that had been lost.
Harriman Mayor Stephen Welle said Wednesday that neither the property owner nor any gambling interest has ever contacted him about building a VLT parlor on the property.